THE ALL NEW BMW i4
AT BMW OF WATERBURY
THE FIRST-EVER BMW i4
Purely Electric Performance! Powerful acceleration. Perfected balance. Spacious seating for five. And fully electric. Meet the First-Ever BMW i4 - a new, sporty electric vehicle that will leave you breathless. The next generation of electric driving arrives with the BMW i4. With an estimated range of up to 300 miles, you can plan day trips or long drives with confidence. The First-Ever BMW i4 combines the pinnacle of automotive engineering with the power and efficiency of an all-electric vehicle. 
Exceptional acceleration and Superior Handling
Catapult from zero to autobahn speeds in seconds with the incredible power and instant torque of this sporty electric vehicle. Precise aerodynamic design lets the car cut through the air, while model-specific damper technology delivers enhanced confidence and control. This four-door coupe is built with BMW's distinctive near-perfect weight distribution and additional fine-tuned suspension components, ensuring enthralling agility and precision on long-distance trips, city drives, or scenic back roads. A low roofline, long wheelbase, and short overhangs create an elegant profile, evoking classic coupe design. The four-door coupe design means this five-seat electric luxury car has plenty of space for the driver and passengers.  
BMW CHARGING
A new comprehensive charging program for BMW electrified vehicles - offers tailored solutions for both home and public charging. Convenient home charging that turns your garage into a Level 2 charging station with the available BMW Wallbox. Or use the portable Flexible Fast Charger - arriving in 2022 - for optimized charging from any 120V or 240 V outlet. Charge from 0 - 100% in under 11 hours.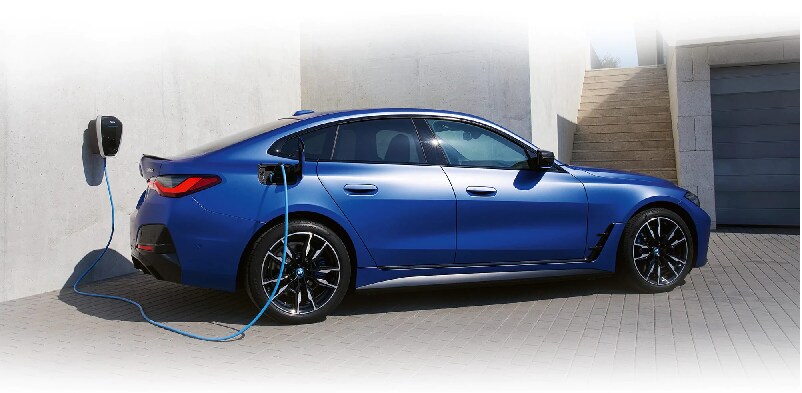 PUBLIC CHARGING POWERED BY EVGO
BMW's partnership with EVgo gives BMW drivers access to the nation's largest fast charging network through the BMW Charging app, making charging on the go even more convenient. Up to 80% state of charge in 40 minutes or less of charging.
BMW i4 Performance


Range of ~300 miles
horsepower of 335
0-60 in ~5.5 seconds